We are currently based at Guiseley Factory Workers Club in Guiseley and use Chippindale Pool in Otley for training sessions.
We regularly dive in the North East, with many members undertaking trips across the UK and abroad.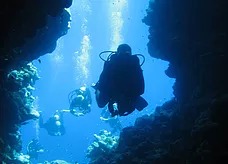 We train to BSAC diving standards and welcome new and existing divers from all diving backgrounds.
We are a friendly club with members from all walks of life and an active Social Calender throughout the year